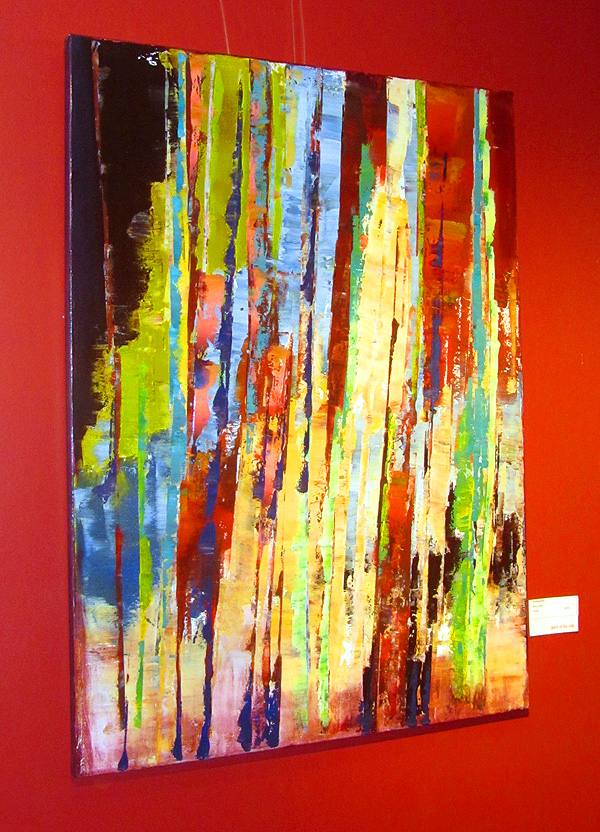 Betsy Miller is a Cobourg artist who is also a member of the Spirit of the Hills, a Northumberland Art Group. She has a selection of abstract paintings on display at the Campbellford Library that are well worth the while to see and enjoy.
As a photographer and graphic designer, Betsy's work has a great affinity because of her striking colours and dramatic design and composition sense. There is a vibrancy in her works that is appropriate to the subject  and tells her artistic tales with poetic directness.
See her Ski Country and Horizon Blaze where the  active hues convey an instant snap click of the scene. And yet there is wryness and humor in Postit while both Native and Transit provide luscious curves and lines of attraction that any photographer would love to trace in their own images.
In the slideshow below if you have Windows 8 or an Android or Apple iOS device you can swipe the screen to control the display of the paintings. If you have IE as your browser you should switch to Chrome, Firefox, Maxthon, Opera, or Safari. IE continues to be the worst of browsers.
[iframe src="http://pixofcanada.com/jqpolaroid/hislider/bmiller.html" width="100%" height="550″] You can also see Betsy's work
online here
and her exhibit at the Library until April 10th 2014. You can see
her personal gallery here
. She is appearing in Cobourg at the
Urban Loft
,
Harden and Huyse Cafe
, and soon at the
Impresario
.