Fall 2014 with all the extra rain should prove colorful in the Northumberland Hills. So if the images below are fair indicators, visiting the Hills for the Autumn colors should be most rewarding.  
[iframe src="http://northumberland.picsofcanada.com/nhfall/nhfall1.html" width='100%' height='640′]
Views from Warkworth to Campbellford in Trent Hills
But there are nine other reasons to visit Northumberland Hills this Fall. These are the fun and wonder of Northumberland Fall Fairs with a host of entertaining events. My personal favorites are  the Horse Shows at the Norwood Fall Fair, the tractor pull demo at Port Hope's Fair plus Birds+Monarch Butterfly Migration Live Lectures at Brighton's Presquil Park.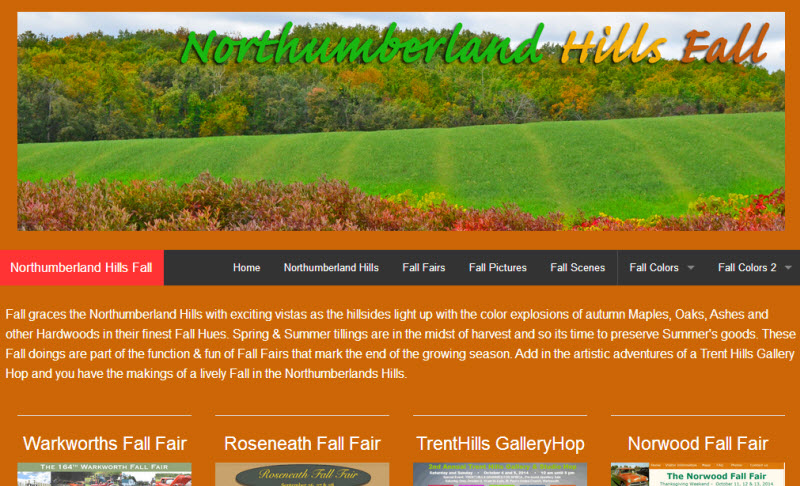 Click on the screenshot to get all the details on Northumberland Hills Fall events.
And there is more. Northumberland Hills area artists have two shows planned for this Fall – the Northumberland Art Studio Tour for September 13th & 14th and then the Trent Hills Gallery Hop for October 4th and 5th. Don't miss these opportunities to visit with area artists as the Fall hillside colors put on a competitive Nature-as-artist showing.
Well there is one more reason to visit Eastern Ontario and Northumberland Hills in the Fall – Lang Pioneer Village.
[iframe src="http://pixofcanada.com/splash/langp.html" width='100%' height='600′] Just some of the Halloween Capers at Lang Pioneer Village
Okay, Lang Pioneer is on the North side of Rice Lake in Peterborough county – but there is a more than a touching affinity to the Northumberland Hills country side. And the Halloween show in October is not to be missed fun for the whole family.
In sum, this Fall promises fine viewing and fun traveling in the colorful Northumberland Hills of Eastern Ontario.