Cirque de Soleil is celebrating its 25h anniversary this year. Part of the celebration has been a series of free shows throughout the Toronto Harborfront Park. This is wonderful for longtime Cirque enthusiasts who have wanted to take pictures of the wonderful costumes and colors sported by Cirque troopers over the years without having to risk life and limb with a surreptitious pic at a live Cirque Performance. So now you get a chance to see what has been admired for so long: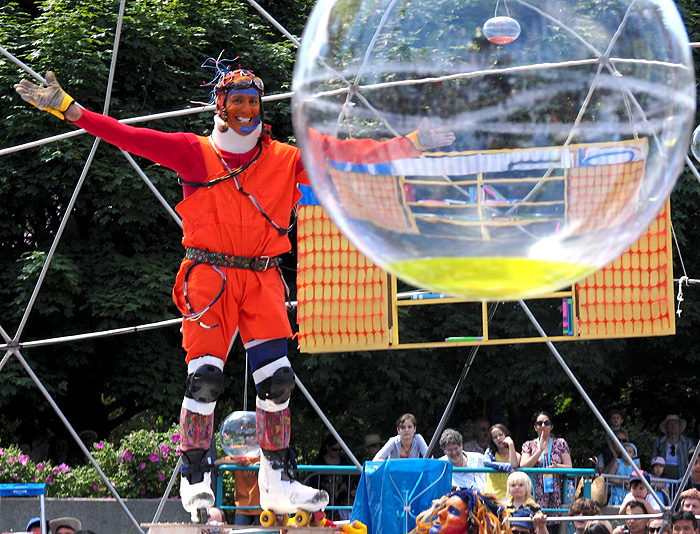 Maybe it is due to outdoors venue – but those colours look rather …uhh firebrand, wacky and gaudy as the set design and peripherals. In Cirque under the tent shows, they use dramatic lighting on relatively neutral background and costume colors. Not here – props and costumes are flamboyant.  Another progression to be seen in Cirque acts is towards more humor. Whats makes the comedy more lively, is that Cirque's directors  insinuate the mirth into most challenging if not downright breathtaking acrobatics.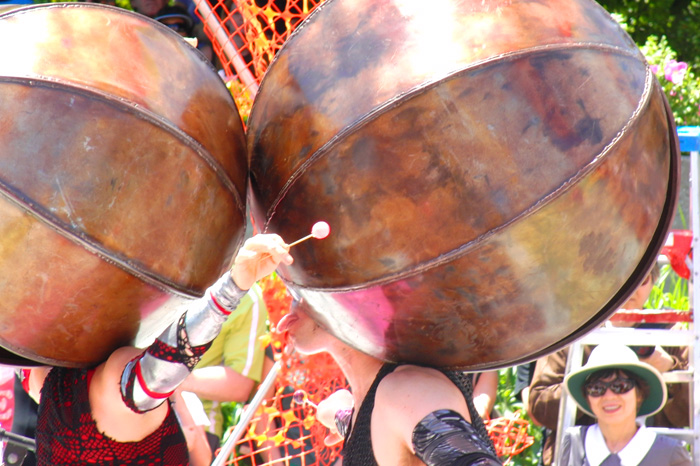 Another , more familiar element  is Cirque's very  novel props. My friends insists this has been a Cirque staple since the very earliest days. But I ask you, are those brass egghead hats just a bit over the top? Yet they are used so inventively in the show that one cannot help but delight in the whole act. There are  certainly not a few smiles to spare.

Finally with humor comes a plot line – daffy, obvious, and exaggerated as seen in the screenshot above. This means that "Cirque Stories" become, if possible, more memorable and engrossing.