4th Line Theater is truly rural-based live theater smack dab in the Northwest Quadrant of Northumberland County in Eastern Ontario. The playhouse is below Peterborough above Cobourg and Port Hope, East of Port Perry and West of Sterling. But unlike theaters in these communities, 4th Line is truly outdoor rural much like Stratford's Shakespeare Festival  in its 1950's era early days.
In Millbrook Ontario at the Winslow Farm, 4th Line offers true farm house staging that works as seen here: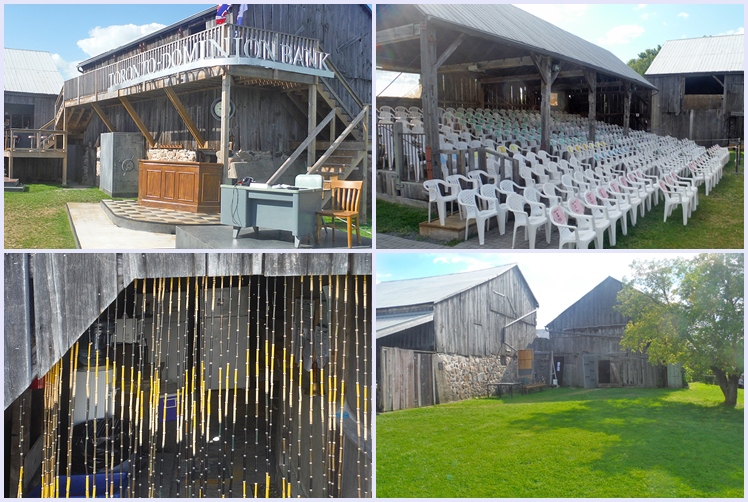 The barns are set in a 3 sides square around the stage and opposite seating  as seen above.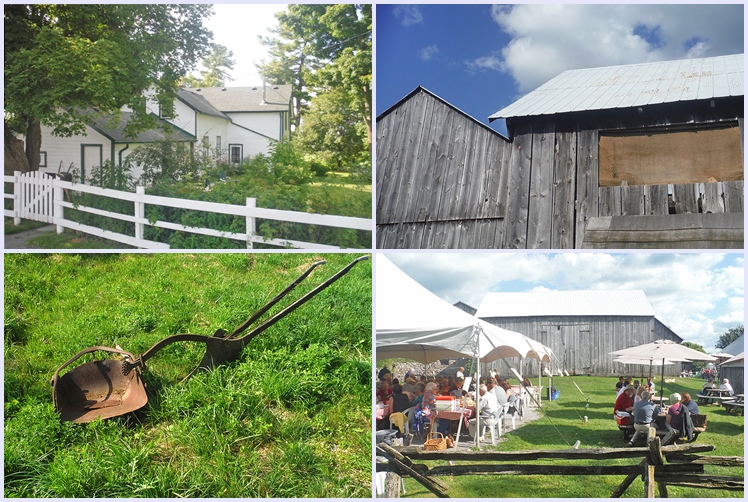 The surrounding farm grounds are taken advantage of for both audience comfort and active staging. For example, in the Bad Luck Bank Robbers play from July of this year, the action spilled way off stage across the creek and into the green-choked fields for a crazy comic cardboard car chase and subsequent  hoofing around in hot and bothered escape circles. The Bad Luck play prided itself on outrageous humor and certainly delivered that with its offstage slapstick and Canadian hockey-puckish political humors.
In contrast, the second summer play, Gimme That Prime Time Religion,  has even more satirical bite as it takes on  tele-evangelism. Now tele-evangelists are a different breed from other church-based organizations because tele-evangelism's operating costs, even on the web, are quite substantial. What writer and director Robert Winslow as Reverend Bobby Angel is doing is turning over the rock that is the unscrupulous scam of "seed money" tele-evangelism. And he does so with fervor and watch-it-biting satire. This is the Business of Tainted Belief. If you view the video on this page in case you don't get out to 4th Line by August 29th when the show ends, you will see a hint of Prime Time Religion or  Faith Taken to Fearful Scam. As the play is very popular, you may find it sold out – hence the alternate link.
Summary
4th Line Theater provides Northumberland Hills play goers a rare commodity – excellent, outdoor theater. This season there is a comic, biting satire bent. But the past few years have delivered drama, tragedy, and even a touch of nostalgia – all on a Northumberland Hills Summer's evening.