The Apple Blossom Tyme Festival has had some unusual exhibitors over the years. So when I saw that Holcim, the local quarry operator, was going to be offering free rides to the quarry for a tour – I thought, "uhoh, these guys are going to be dissappointed". Not so because of a very good presentation and presence at the festival.
Holcim had three tents along Main Street in the heart of the Festival. One was devoted to the the company and details of the tour of the site that was a 15 minute School bus ride away. The other two two tents were devoted to keeping the kids occupied so Dad could sneak away on the half hour for a tour of the Holcim's work site. Holcim provided an overview of the site and picture of the various game and animals including fox, deer, and many bird species that prosper in and around the quarry. There was word on reclamation, but ye Editor got distracted by the fun offered by Holcim for the kids, and so missed his briefing: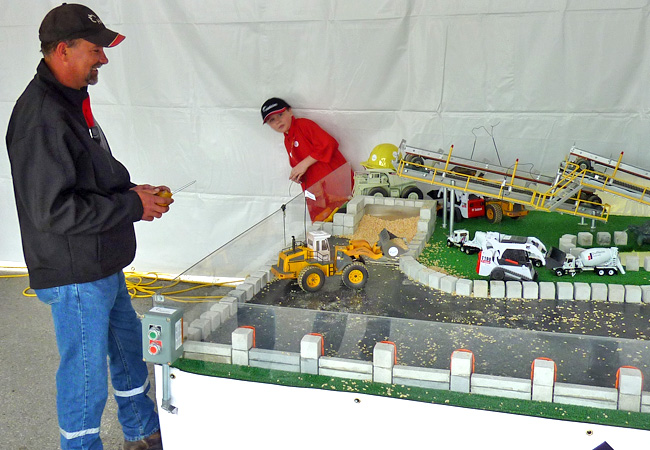 As you can see the "kids" had fun waiting for Grand Dad to get back from his tour. The setup was  a model of one of the loader operations at the quarry And the radio controlled loading operations were fun and challenging. For Moms and daughters, there was a separate tent where the creatively inclined could  craft a small Eskimo stone sculpture with glue and imagaination. This turned out to be very popular for Apple Fest goers both mail and female and not just the ones waiting for Dad to get back from the quarry.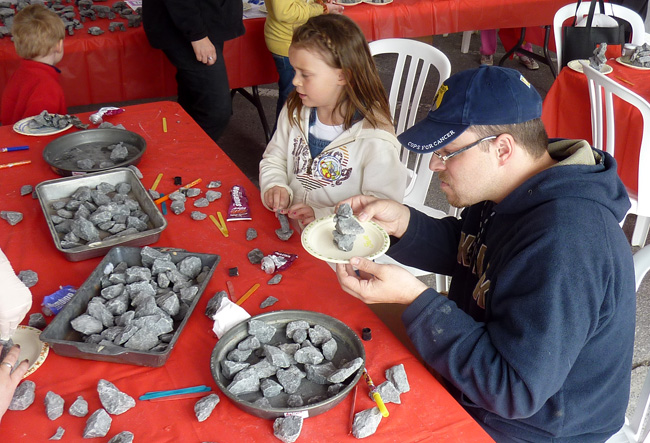 Kudos for Holcim for putting on a super show. The only, complaint, the tours were only available for Saturday, so ye Editor missed out on a nostalgia ride on a school bus – as he was relying on a Sunday tour when the the Apple Festival's frenetic line-up of events was down to a more pedestrian pace. Meanwhile, enjoy pictures of the Holcim fun: