One of the attractions of the Apple Blossom Festival in Colborne ON is the reappearance like flower blossoms of the classic cars and trucks at the various Shows and Festivals throughout Ontario. Sure there is the big car Fest in Barrie and the Granddaddy Auto Exhibition in Hershey Pa in late Summer. But hidden in the valleys, farmyards, and cottages of South Eastern Ontario are some real beauties which are only too happy to make a Spring time appearance.
And lo and behold, ye Editor was surprised to see my Dad's old pride and joy, a 52 Mercury sedan [Honourable Father was a car fancier of great persistence as ye Editor went on many a trek to the nearest weekend car show]. So here is a favorite a look back to foggy memories of my Dad's 1950's era Mercury sedan. It is truly a foggy memory because this classic has been prepped and primed with a lot of "beauty touches" including, yikes, a Chevy Grille:


Ahh the smooth moving Mercury
Note the Car Show has to compete with the Tractor Exhibit from the day before – beauty is in the eye of the beholder and user – and this is Colborne Ontario in the heart of farm country. To ye Editor's surprise there were almost as many trucks as there were cars. True enough, there quite a few muscle cars from the Smokey and the Bandit era and some very nicely refinished old tyme Ford's. But what was most enjoyable was the full range of cars and trucks to be seen at the Apple Blossom Tyme Festival:

Ye editor, did not see the announcement of the Winners in the Car Show, so you will have to be contented with my own personal favorite: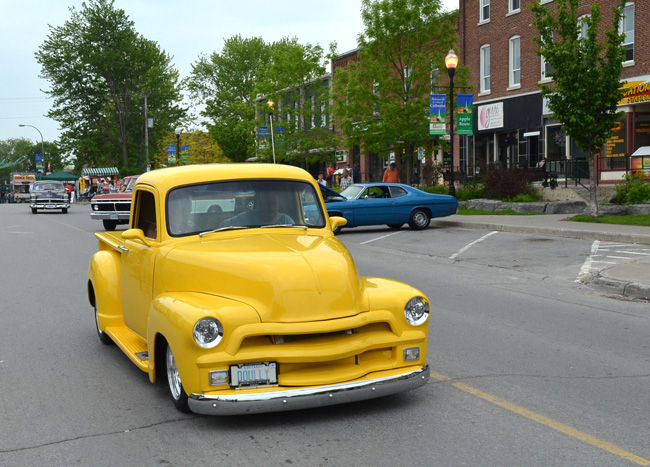 Now ye Editor can just imagine himself percolating down the street in this very fine Yellow-canary Chevy Pickup…..