Ron's Garden Art is still thriving with the wide variety of outdoor art that makes his works as natural as the roll of Northumberland Hills. The red and blue period of canvases has given way to roosters, horses and wildly colorful flowers:
Such a Bouquet of Hues
We used to have chicken roosters at our place and this is the spitting image of Beauregard.
And of course a dynamic Windebank horse.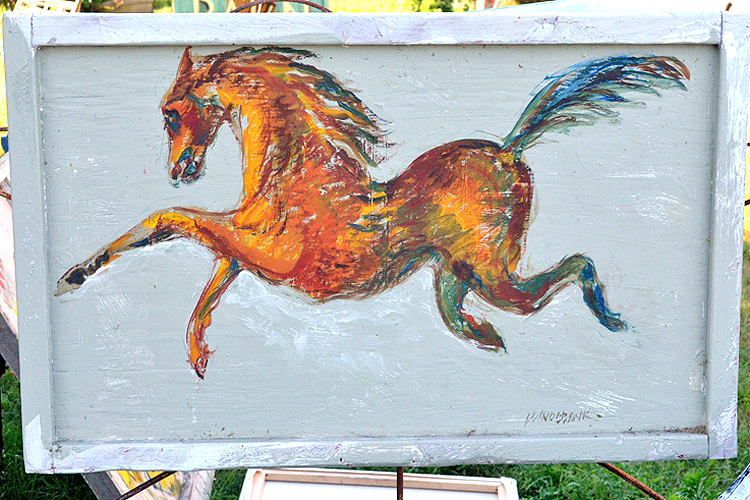 Now Antiques
But the real change at Windebank's Art Garden is the appearance of a lot more antiques. In the process of going out looking for old wood panels in the Hills, Ron has managed to find an ever growing collection of local antiques.
Here are two new ones – a rocking horse:
And a pitcher
in fact Ron has collected so many artifacts and antiques, that he could well call his place an Art and Antiques Barn as seen below.
[iframe src="http://pixofcanada.com/travels/rona.html" width="770″ height="510″] In sum, Art shoppers coming to Windebank's Garden now have some great antiques to look through as well. Ron is just west off of the junction of Hwy 30 and Hwy 29. Just click on the Directions menu item in the Google Map header below to find out how to get to Ron's Emporium.

You can enjoy the Fall Northumberland country side at the Warkworth Fall Fair or Gallery Hop in early October and easily make a stop at Ron's Farm.