PicsofCanada promised you lots of things to see and do at the Warkworth Long Lunch and so here are the photo returns.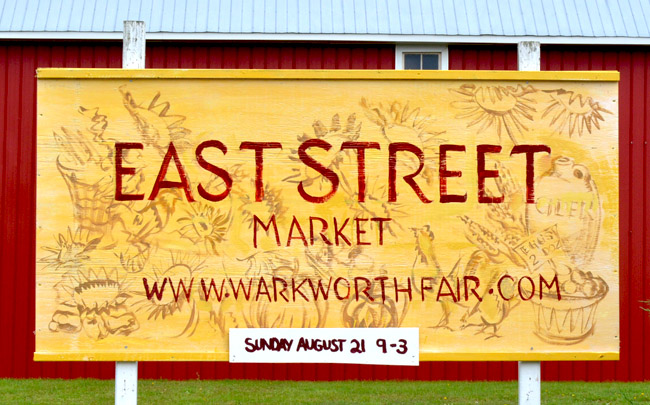 First, the East Market opened up early Sunday morning  and there were lots of wares, produce, and goodies to be found in the Red Barn on East Street. The weather was still a bit shaky but the rains were to hold off for not just the morning but throughout the Long Lunch Day[okay there was a drizzle around 2:00PM; but easily covered].
Ye Editor found three merchants at the the Market who caught his fancy.Ron Windebank, who is responsible for the East Street Market signage seen above, had his outdoor art on display all over the Red Barn. PicsofCanada has already featured his work – and there were some real bargains to be found in Ron's  East Market paintings on show: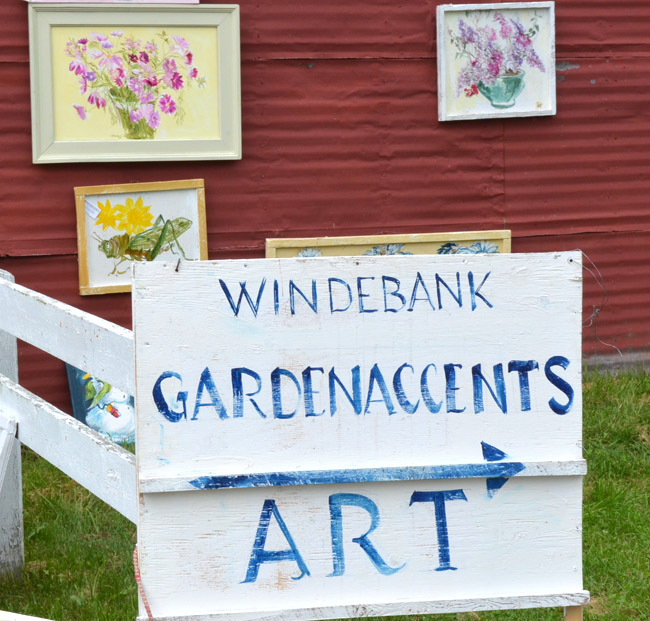 A sampler of works on display is below – and visit his website and our review of  Ron's art place. What really tickles the funny bone is Ron's incorporation of existing signs into his art display with a wry sense of humor as seen

Click on any thumbnail to see the enlarged image.
Joan Van Volkenburg's Handbags – Call her at 705-778-2964
Joan's handbag designs really caught my eye on two fronts. First, they were sturdy of make – no small matter as handbags at the shopping mart now replace many plastic bags. Second, they have a freshness of design that pleased this texture artist from way back at OCAD days.
Doris Meier – Stained Glass Artis – Call her at 705-653-1970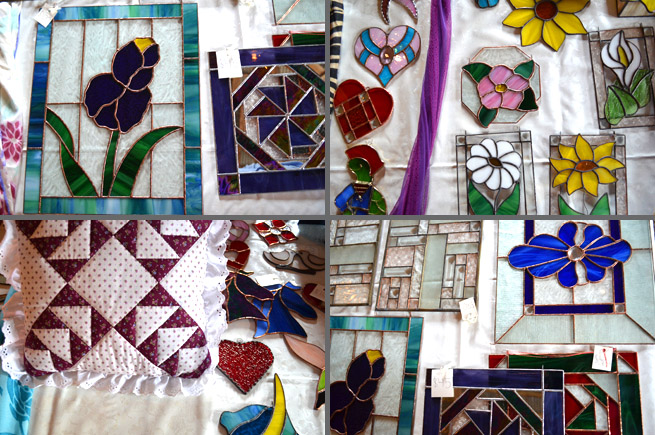 The third artist would please my Mom's eye because she did both quilt work and stained glass. the stained glass work in particular showed steadiness of hand and nifty design touches. Particularly  refreshing were the lead solder refinement/colorings and the savvy use of blank spacing. All in all, some very fine stained glass works.
Next to Open: the Spirit of the Hills Photo Show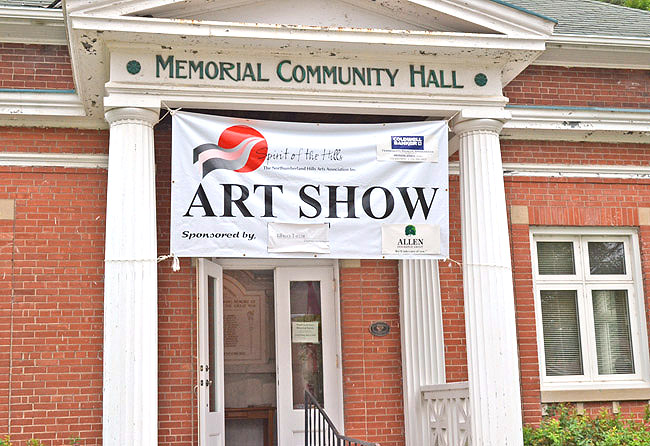 The Spirit of the Hills had it Photo Show open for the Long Lunch weekend. The juried competition and exhibition had entries from a dozen  Spirit of the Hills photographers. The photos on show  were quite good using a variety of photographic expression – black+white,  solarized, artistic filters, high key exposures, and very polished photo-editing. And there was a clear cut winner, with Mary Weilandt's Water Lily Leaves taking both the Juried Best of Show and the People's Choice Award.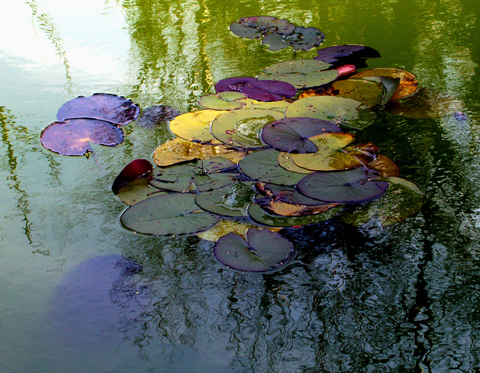 Mary Weilandt's Winning Photo – Water Lily Leaves
Next to Start –  the Long Lunch Itself
The Long Lunch started before its official 12:00 Noon starting time. There were dozens of Lunchers lining up early – perhaps to avoid the obvious signs of rain. having been in Detroit the day before to see the Woodward Classic Car Dreamcruise, ye Editor  can testify to the ferocity of the thunderstorms that were headed up Warkworth way. But the bulk of the storms just drifted out over Lake Ontario and thus spared the Long Lunch.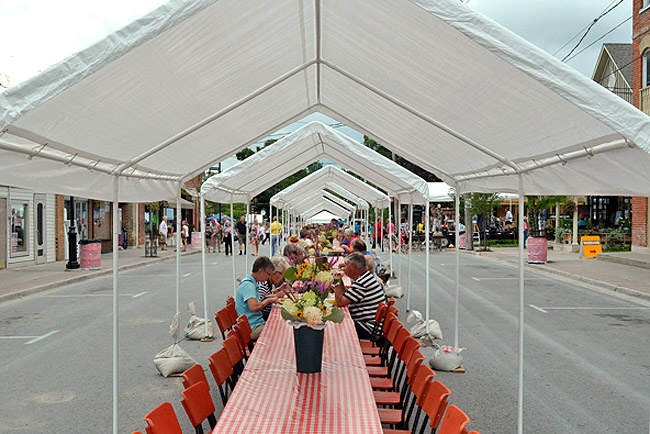 Munchers Ready To Lunch
The turnout was excellent as scores of people showed up and lingered right to the 3:00PM closing time. And of course they had excellent service and settings at the Long Lunch:

Click on any thumbnail to see the enlarged image.
Long Lunch's Entertainments
Now as always the Long Lunch had entertainments – this year the ever fun Dixie Dudes. They produce a wide array of melodies and toe-tapping sounds to make any meal digestible.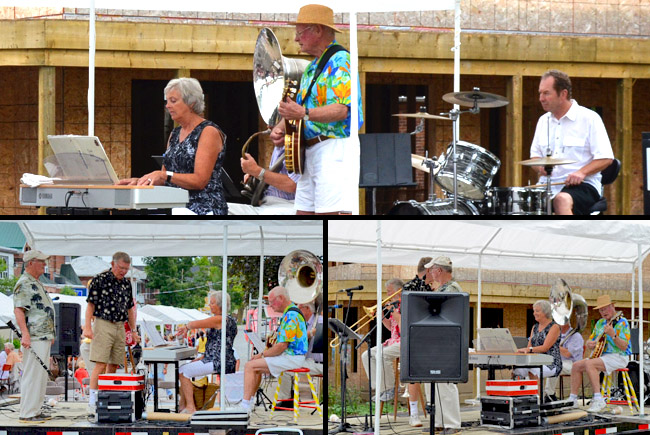 But this years long lunch with corn, pork, beef, beans and salad was a real delight; and of course the cheery, strawberry+rhubarb and apple pies for desert were a tasty delight for dessert. But a real added treat this year  were artists at work along the street and the classic carson display at each end of the street.
First the artists were painting pictures  and showing some of their works as well.  Have a look see over my shoulders.
Mandy Bing

Mandy is a color stylist after ye Editor's own heart.
Erwin Rummel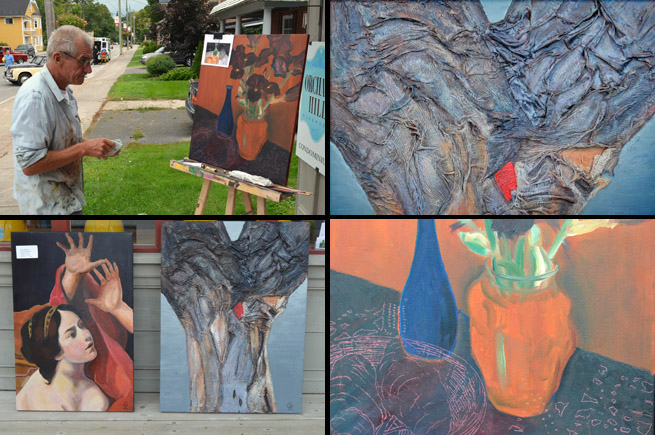 Ye Editor had a chance to chat with Erwin about his painting techniques. Erwin, like a friend, is fond of using included material like rags and scratchings to provide texture and mood whose shapes and hues then reflect or contrast. But of course color is a chimera imposing its own impressions – almost like liquid emtions. In a short chat, we found much common ground.
Eric Wright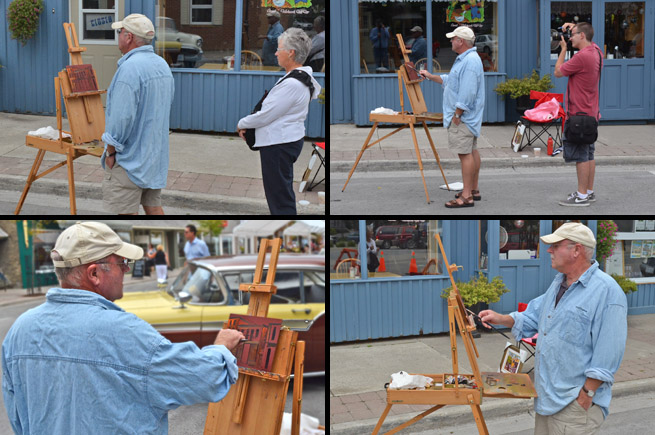 Eric had a number of admirers as he proceeded to paint the town. Again it was a delight to see how color and stroke illuminated the town's familiars in new ways.
In general, seeing artists at work at the Long Lunch was a delight in itself. Being able to chat and see an image/vision evolve has its own rewards. It is like doing a creative play by play in your own head – a classic exercise. Speaking of which, the Long Lunch had some classics on display.
Classic Cars
At each end of Main Street  classic cars were on display. Now having gone down to the Detroit Dreamcruise the day before, ye Editor is truly interested in classic cars. And the elements conspired to provide some added drama to what was on display. Take a look.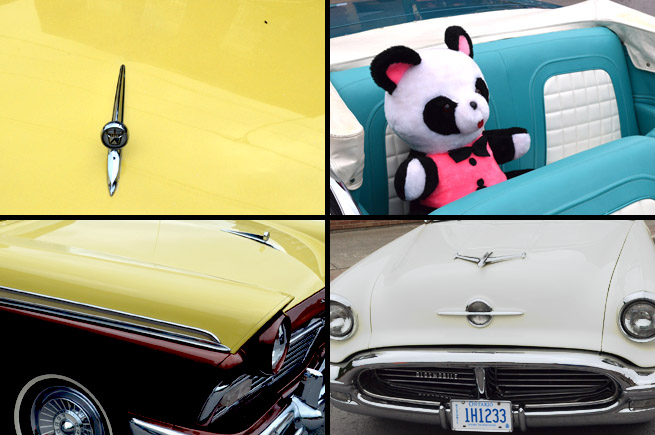 Checkout the surfaces on display below:

Literally stylings that only Madmen could love.
Summary of the Scene
If you get the idea that there was,  indeed, a lot to see and do at the Warkworth Long Lunch besides feast and chat with family and friends – then you have caught the meaning of this Summer End gathering in Warkworth Ontraio. It is  always a weather a dodge – but never short on interesting things todo.