Warkworthian Travels to Costa Rica on a Dental Vacation
A simple case of economics allowed Warkworth's Wendy Avis to travel to Costa Rica to get expensive dental work done at a bargain cost  while enjoying a Spring vacation. Here is the magic of the dental economics. Wendy discovered through a friend  that the cost of getting her necessary dental work done in San Jose Costa Rica  would be less than a third of having it done here. So with the blessing of her local dentist Wendy contemplated going to a  San Jose dental clinic while garnering a vacation and a welcome respite from a harsh Ontario winter. Here are some highlight  pictures taken by Wendy on her excellent adventure in Costa Rica.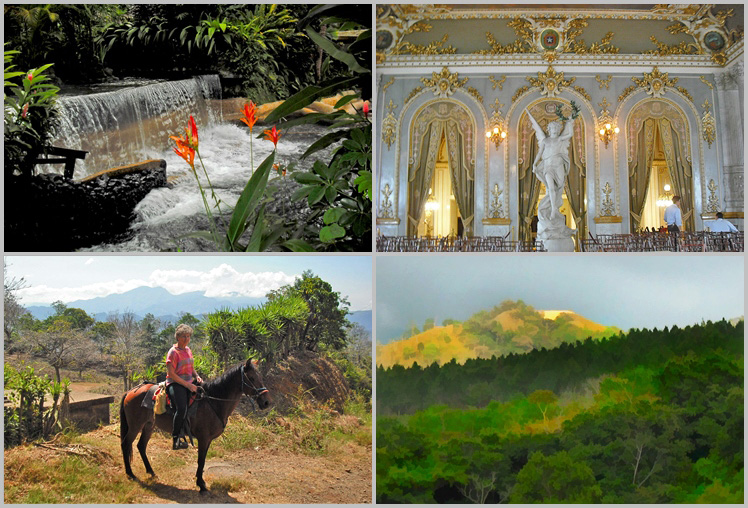 It actually took two trips. The first was back in October of last year which was primarily for preliminary dental work. The second, starting on March 21 of this year and lasting  for ten days added more sightseeing plus some horse riding in the hills southwest of the city. Wendy was rewarded with some splendid sights, good company, and fine adventures. Wendy's  images above and below are  just a Whitman Sampler of things done on her  Excellent Adventure in Costa Rica.
San Jose and Costa Rica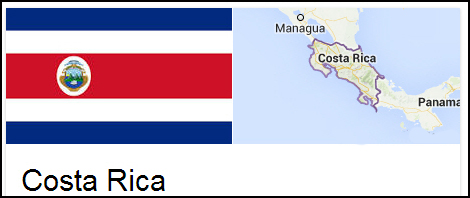 Costa Rica or Rich Coast is well named as it lies above Panama and below Nicaragua in Central America. So its western  flank  is the Pacific Ocean while the Caribbean Sea washes the Eastern shores. The country is mountainous with a central valley providing rich farmland for sugar cane, banana, and coffee among the export crops. Also the capital, San Jose lies in this central valley with a population of 288,000 amid nearly 2  million living in the Costa Rica's central valley out of a total population of 4.7 million.   .
Wikipedia succinctly summarizes Costa Rica's  political and social setting:
"Once a poor and isolated colony, since becoming independent in the 18th century, Costa Rica has become one of the most stable, prosperous, and progressive nations in Latin America. It constitutionally abolished its army permanently in 1949, becoming the first and one of the few sovereign nations without a standing army.[A constitutional republic, it is the only Latin American country to have been a democracy since 1950 or earlier.[10] Costa Rica has consistently been among the top-ranking Latin American countries in the Human Development Index (HDI)". This political stability and richness of culture is reflected in the city of San Jose. For example, in La Sabana Padre Chapui park near where Wendy stayed, there were recreational,artistic and cultural attractions aplenty.
[wowslider id="21″]
Being just north of the Equator Costa Rica's climate is tropical year round although there are many micro climates in the hills and mountain valleys stretching the length of the country. Thus as a tourist, Costa Rica offered Wendy a wide array of ventures from the rain forest lodges and tours through the volcano based trails and spas to the dude ranches along Pacific coast providing horse riding onto spectacular views and trails up into the hills or down to the ocean beaches. And everywhere there were beautiful floral reminders of Costa Ricas's rich and lush tropical beauties:
[wowslider id="24″]
In sum dental necessity lead to the discovery of an alternate Costa Rican adventure.