Its not easy being a man these days – one has to be diplomatic about it. However, the Warkworth Fall Fair caters to men. Not exclusively, but primarily with the following events.
The Classic Car Show
This is an example of an event that women appreciate but do not often participate in. In Canada, male auto & truck mechanics outnumber women by 10 to 1. Women often encourage and do enjoy the fruits of classic car construction and remodeling; but Jane the Auto Mechanic is more the exception than the rule. However, to prove the opposite, there was a couple at the Classic Car show at the Warkworth Fair that worked together on their very fine low riding, red top GMC truck.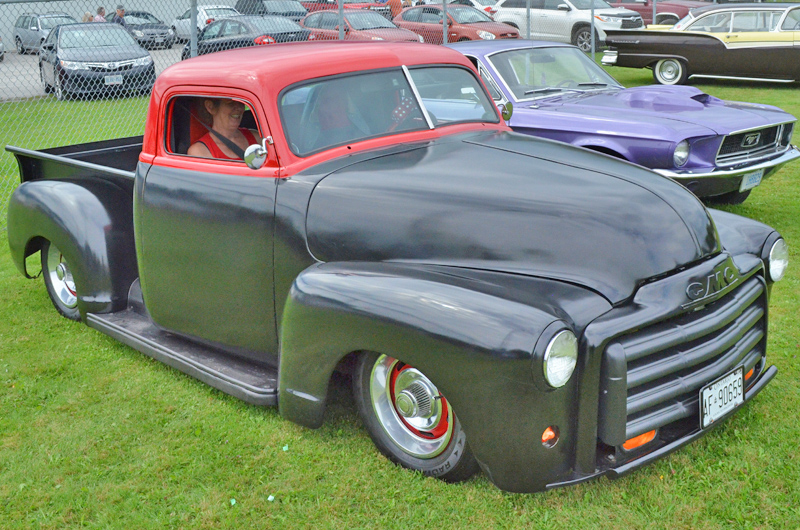 Now as you can see there were some other fine cars to be seen at the Warkworth Fair Classic Car Show.
[wowslider id="38″] And even better was the chance to chat with many of owners/craftsmen of these Classic Cars.
Chainsaw Carving
Chainsaw Carving sounds brute and primitive but it has a precursor in hatchet and saw carving. Forty years ago while observing survey work in Northern Quebec, I got to see the work of some native surveymen who were accomplished wood carvers. Their carvings of birds, bear, and other wildlife were very good. But what was most surprising is that most of the work was done with some big power saws to trim the outline of the figure from a block of wood and then a hatchet plus a few knives and files were used to refine the image. One early morning father and I watched a skilled Native Indian craftsman create a moose sculpture in less than an hour from a block of maplewood. This was marvelous and this is the tradition.
Robin Duchie of Cloyne Ontario and Wolf Creek Carvings carries on this tradition but uses power chainsaws to replace most of the hatchet and file work. As those who saw Robin at work at the Warkworth Fall Fair can attest to, he works fast yet produces sculptures that are compelling in style and form. Here is a video sample of Robin at work. One cannot quite believe the craft until you see Robin in action:
[iframe width="640″ height="360″ src="https://www.youtube.com/embed/WkMKfSaalt8″ frameborder="0″ allowfullscreen ] As one can see from the video and if you visit the Wolf Creek website, the sculptures are quite good.
Trent Hills Firemen Drills
Now as you can see from the photos below, Trent Hills Fire Crew includes woman on staff too. And she took part i the strenuous fire drills. Let me emphasize strenuous. It was warm and humid day so donning all the fire clothing and equipment for the fire drill was challenging. But so was the course:
[wowslider id="37″]
This is literally heavy lifting that gets the heart rate going pretty quickly. One can appreciate the skill and physical training required to be a fireman.
Competitive Horse Team Pull
My mother told many a story of how the team of horses on the farm were vital to getting heavy work done – plowing the upper field with its stubborn rock inclusions, removing tree stumps, hauling in the hay. And her father had access to a tractor and mechanical power but hitched up the horses "for the heavy loads".
Well the Competitive Horse Team Pull at the Warkworth Fair pays honor to those heavy load horse teams. One thinks of Percherons, Belgians and Clydesdales as part of a beer commercial; but once you see the big horses pulling "the boat" weighed down to as much as twice the horses weight – well suddenly you are brought forcefully into the fascinating world of power weight lifting, equine style.
[wowslider id="39″] What is interesting to watch is how ready the team of horses are to pull. As soon as the link is clicked into the rig, the two horses bolt into a power pull. The handlers have to be extra careful not to get caught in the rigging or its lines.
[iframe width="640″ height="360″ src="//www.youtube.com/embed/UZp2ppuVu4A" frameborder="0″ allowfullscreen] Truly, this was a fascinating demonstration of HorsePower in action.
In general, the Warkworth Fall Fair has events of interest to the whole family. But it was also fascinating to see some of the Men's Events pulling their own weight.