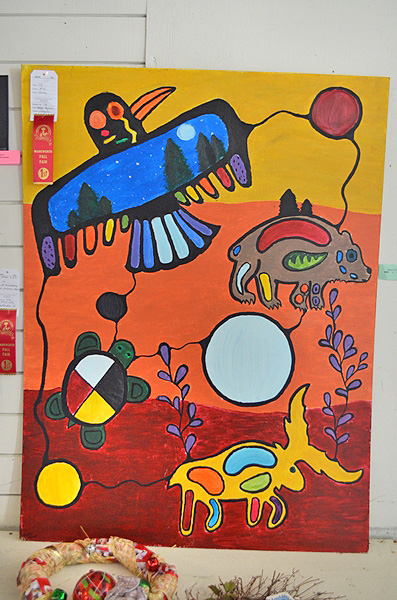 One of the delights of the Warkworth Fall Fair is to see the various Arena-hosted contests for  flower arrangements, local photos, garden produce, knitting & quilting, potting & preserves … and that is just getting started. See the Indoor arena post for further details.
But of particular interest is to see the kids art exhibition. Each year the variety and quality of the art surprises.
Of course one should not be surprised given the work of  Artworth.ca. Each year for the past 9 Artworth has sponsored a week of art fun and activities for Trent Hill kids aged 7-13. Here is this year's Artworth activities:
This year ArtWorth runs from July 14th to July 25th.  Featuring an exploration of art in nature and nature in art, we invite kids to stretch their imaginations and explore their creativity through pottery, primitive toy building, tie dyed kite building, drawing and painting, creative movement and more. 
This year ArtWorth includes a trip to Lang Pioneer Village for a chance to explore art from a pioneer perspective, with both demonstrations and hands on experience in soap making, blacksmithing, weaving, and smoke firing.

Now given 9 years of such summer art fun one  could expect some nifty creative expression. And indeed there was a wide range of fine art. There are some budding graphic designers in Warkworth with wonderful posters done in quilt and collage fashion, bright bold color with due attention to font/text design.
The first prize painting had distinctive native indian motifs with dramatic drawing within the figure styling. But the most fun was a pink oinker with eyes off to the right saying "sheesh, whats next?". Wry humor expressing the great fun among all the art work.
[wowslider id="34″] And so a great Kids Art showing was to be found at this year's Warkworth Fall Fair.