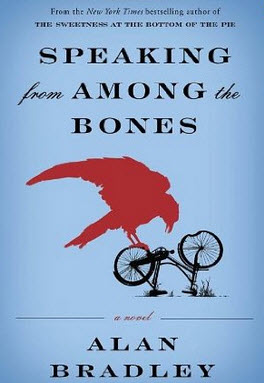 Flavia de Luce Mysteries
 are a truly precocious mystery series  brew. Part  Nancy Drew, part Hardy Boys but distinctly Flavia. She  is  11  going on 12 and not just fascinated with but also mastering  all things  chemical, poisonous, and deadly. Aiding and abetting these interests are her Uncle Tarquand's vast and well stocked chemistry lab of which she is sole mistress; two sometimes  bullying sisters who risk semi-poisonous retaliation; plus Flavia 's propensity to find murder victims around Buckshaw and  the nearby town of Bishop's Lacey.
And what a setting – it is 1951 and post World War II readjustment in Britain. The de Luce family represents British aristocratic upheaval as paterfamilias Colonel de Luce copes with returning home from a prison camp while trying to  maintain  Buckshaw, the splendid family estate. Complicating the problem is the fact that his wife Harriet disappeared on a mountaineering adventure and left no will.
True to form in the latest mystery  case, Speaking from Among the Bones
, during the opening of the tomb of the local St. Tancred, instead of the saints bones, Flavia is the first to discover the body of missing church organist, Crispin Collicutt. And thus  it is not relics but a murder mystery which Flavia has again uncovered.
Now what makes Flavia so interesting is not just her youth and sleuth talents but also her logical intelligence,  downright audacious courage, but also preteen social naivete. Ohhh… and did I mention a taste for getting even with her older sisters Ophelia and Daphne with dashes of disguised chemical potions stopping just short of lethal poisons?
One quickly discovers that Flavia has mastered late Uncle Tarquand's special built Chemical laboratory and has become adept in all the Machiavellian ways Chemistry can inflict pain on the unsuspecting – watch out Philie and Daffy! But just as in the War of the Roses there are rules of sisterly engagement. And as the girls pass through their teen years, they also  uncover to their own surprise  deep familial attachments.
Unexpected Sourcerer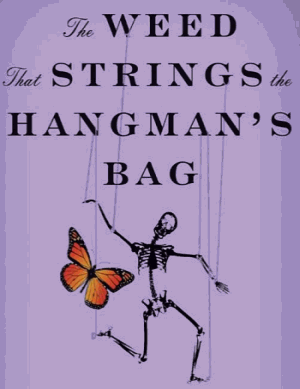 And who is the conjurer of these mysteries which have won in unprecedented fashion just about every mystery writers award? The list is impressive:
The Agatha Christie Award for best first mystery novel
The Alex Award for best first mystery novel
Arthur Ellis Award for best first novel
Barry Award for best first novel
Dilys Award for best mystery novel
Debut Dagger Award for best first mystery novel
YALSA Best book for young adults
None other than Canadian, Alan Bradley. Born in Toronto, raised in Cobourg Ontario and worked in Cobourg, Toronto and then Saskatoon until 1994 when he retired to writing. And what writing!
After the award winning first novel,  I was worried the second would present the usual sophomore jinx – not too good. Not to worry. The Weed That Strings the Hangman's Bag
proved to be even more captivating. It starts with a Shakespearan scene of Flavia reclining by a tombstone in St. Tancred's cemetery, imagining her burial and her sisters rueing her demise. And pop  – she is brought back to life by Vicar Richardson and beloved BBC puppeteer Rupert Porson. Rupert is in need of a car repair and the Vicar is need of financing a major roof repair. So Rupert agrees to put on two shows in exchange for the the Vicar's aid.
To the Vicar's delight the whole of Bishop's Lacey, turns out for a suitably dramatic Jack in the Beanstalk play  which ends with the Giant plunging to his death in the form of Rupert Porson, electrocuted unbeknownst to the whole audience but Flavia who saw the rehearsal and knows this is not to form.
And thus commences a delicious mystery that takes readers to the Dark Woods, introduces more denizens of Bishop's Lacey some of whom rise and fall as prime suspects. The action allows author Alan Bradley to fill in the story about  Dogger –  the family gardener, Dieter the German pilot and POW who has elected to stay in England in order to teach English Literature, the three sisters, and Inspector Hewitt and his constabulary. Thank heavens they are not dimwit  cops as in the case  of Captain Hastings or Inspector Japp in Agatha Christie's own  Hercule Poirot mysteries. Rather Inspector Hewitt and crew   turn out to be no pushovers. They are able confirm and clarify Flavia's sleuthings and add their own clinching-to-conviction evidence.  In sum, it is a marvelous second mystery novel.
Summary
Canada has produced a late blooming but magnificently entertaining mystery writer in Alan Bradley. The good news is that the next three stories are even better. And the next story should prove to be even more popular among Flavia fans because her mother, Harriet, missing and presumed dead returns to Bishop's Lacey. Finally, let me add one more enticement. fans of Flavia should consider buying the audibook. For about $7 more, half the price of drama ticket, one gets an audiobook with reading by Jayne Entwhistle  which brings Flavia and family truly to  life. Like in the case of recently reviewed Wingfield on Ice, it is like being treated to a fabulous live play – no wonder good radio drama used to be so captivating.