Canada Day last year was lots of fun in three Northumberland Hills towns – Campbellford, Hasting and Warkworth. It was hard to choose among them for sheer fun and games. But this year Warkworth made a case for itself. Here is a capsule look at the fun to be  had in Warkworth on Canada Day.
First, the inflated Slide and Obstacle course turned out to be be very popular with the kids.


This gal kept going round and round on the slide a thousand times.
But the slide could be made into risky business: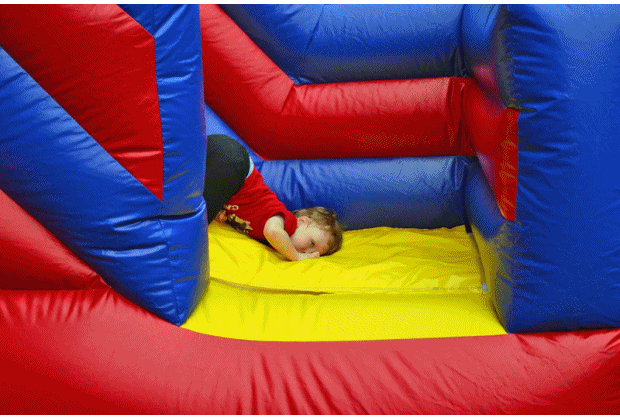 Going down head first was quickly replaced by an about face. Other appeared to run down the slide. Fortunately the slides inflated plastic construction averted all kids disasters – and in general, the kids certainly enjoyed themselves: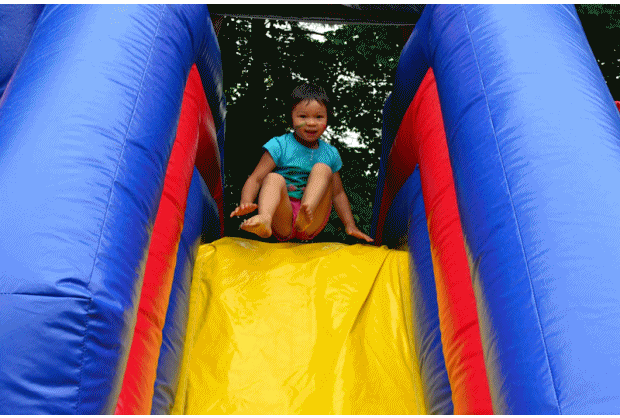 But perhaps the most important ingredient was old fashion fun, music, and races from 100 years ago:
[iframe src="http://pixofcanada.com/splash/canday.html" width="100%" height="600″] Click here to see full screen-size
The Races
Almost as popular as the free hotdogs, cupcakes, cotton candy and snow cones were the sack and 3 legged races. The kids were constantly calling for more races and they certainly had a good time as seen here:
[iframe src="http://pixofcanada.com/splash/cankids.html" width="100%" height="600″] Between the sack and 3 legged races, balloon toss and fire engine hosings, country melodies and inflatable boundings – kids of all ages found plenty to do in Warkworth Ontario on Canada Day 2013. Thanks are due to Marg, Joyce, Bonnie, Cathy, Fran, Maureen, and many others for their stalwart efforts in making Canada Day a delightful time in Mill Pond Centennial Park.