One of the downfallls of living in the countryside is the lack of a great fireworks on Canada Day. Montreal, Toronto, Vancouver even Calgary [at the Reservoir], all have great waterside venues for their fireworks displays. Yeah the small town fireworks are big on nearby bang but lack the spectacular size and flare of the big city … bbzzzzt, Wrong! Small Hastings On, at the Eastern End of that great Ice Age gouging known as Rice Lake, puts on a Fireworks by the Lake display equal to if not better than the best of the big cities. This was quite a show that had this visitor saying Wow many times over. Here is sample: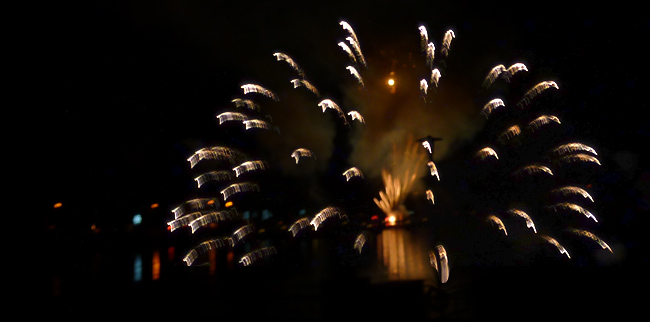 Spectacular show at Waters Edge
But to ye Editors's embarrassment, I was taking fireworks pictures like a rank amateur. I could not get the settings right, overexposing and many times slowing the image shutterspeed down on the compact camera such that the image was shifted or overexposed. Readers can be the judges:
[scrollGallery id=28 width=780 autoScroll=true]
Click on any thumbnail to see the enlarged images
The results were images overexposed, smeared, and slightly off in catching the many "wows" that made up this spectacular 20 minute fireworks show. Ye Editor took some video and is hoping that will turn out a bit better. Meanwhile enjoy glimpses of a spectacular fireworks display that thrilled not a few thousand visitors to Rice Lake and Hastings Ontario.