The Cobourg Highland Games committee really knows how to put on a fling as seen at its 50th year event. First, it was a return to Victoria Park – a natural for the meeting of the Massed Pipe and Drum Bands and the assembled Highland dancers. And the nearby Cobourg beach was perfect for the Heavy Weight events.
But the Highland Dance competition had the benefits of using the bandshell area as a natural backdrop and tree shaded vantage for the splendid Highland Dancing on show:
The Sword Dances were very robust this year – with the young novices doing quite well in the intricate foot work required by the dance. Of course the premier dancers put on quite a show earning well deserved applause. Their leaps and synchronicity were quite astonishingly good.
In the morning round of dances the audience was treated to the Sailor's Hornpipe. This is a lot of fun:
[iframe width="640″ height="360″ src="//www.youtube.com/embed/vIQ9piE0iwg"] First, the dancers get to dress in sailor's uniforms – a woman in uniform is Oh La La. Second, during the performance the dancers get to improvise a celebration section which makes for some fine footwork.
Finally, I would be remiss if I neglected to show the Mass Dance which occurred this year just after the Assembly of the Massed Bands. At the end there was a delightful performance.
[iframe width="640″ height="360″ src="//www.youtube.com/embed/lqz3soTkK3g"] In general the Highland Dances were quite a delight this year – perhaps it was the very genial setting. Or maybe the finally warm and sunny weather after a cool spring. Whatever the case, the Highland Dancing added to the luster of Cobourg's 50th Highland Games. And the Sailor's Hornpipe dances in the morning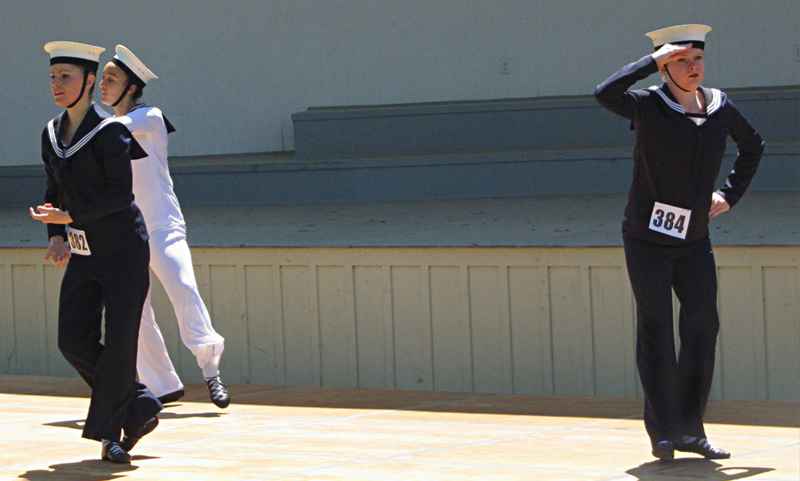 were a special delight. for the novelty the dancers brought to their performances. Fun for all involved.