One of the big stops on the Trent Hills Gallery Hop will be the Clock Tower Cultural Centre in Campbellford where 6 artists will have their works on display. Also visitors will get to see a wide array of artistry from rug-hooking through painting to print craft and photography. Here are the artists who will have their works on display.
Hans Becker – Photographer
Hans has been interested in photography since his teenage years, and has worked in the photographic industry for over 35 years.  In his own words – "I am constantly in awe and inspired by nature's endless beauty. I see everyday things in a unique perspective, eliciting a sense of peace and harmony in the world around me. My photography encompasses a wide range of subjects which capture my interest."
One can see this eye of interest in landscape, travel, and  nature photos if you visit Hans' website for a full showing of his photographic works.
Kathy Beckford – Rug-hooking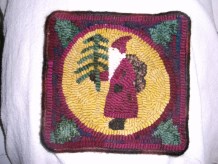 Kathy Beckford has been rug hooking for 40 years, it is her passion. She is also a certified teacher with the Ontario Rug Hooking Guild. She has completed many different styles, from a fine cut for shading to a Primitive style.  Primitive style remains her favourite and uses a lot of recycled wool. Kathy is also adept at dying her own wool. Her latest endeavour combines hooking with the blanket stitch. Here is part of how she described her love in InsideBelleville:
"I love the feel of material, of wool. I just don't know, it captured me…There's always new avenues to explore…It just keeps me very busy and I love it."
Jeanette Campbell, Visual Artist
Jeanette Campbell was born in Toronto, and has studied at MacMaster University, Ontario College of Art and Banff School of Fine Art. Her paintings have been exhibited and sold across Canada, the USA, Britain, the Netherlands and Barbados. Jeanette works in oils, watercolours, acrylics, pen and ink and pastels. Her realistic style lends itself to her favourite subject – people at work and play. Her speciality is portraits.
And in the slideshow below you can see Jeanette's skill in portraiture:
[masterslider id="7″] You can see Jeanette's work as Resident Artist at the The Blue House Upstairs Gallery in Brighton Ontario.
Carey Campbell-Dinkel – Mixed Media Artist & Photographer
Deeply sensitive by nature, Carey Campbell-Dinkel has always been absorbed in and affected by the beauty and mystery of everyday life. Her photography and mixed media abstract artwork is an acknowledgement, a visual tribute, to the push and pull of her heartstrings in her own words:
"The Hop marks the first time that I will show my work publicly. I am excited for this opportunity although it is quite a leap for me as I have never considered myself an artist per se. I have always been a 'creative type', however, I started putting paint (among other things) to canvas a few years back in order to satisfy a very practical purpose… to have my walls decorated with artwork that appealed to my unique taste. That's when I discovered the remarkably therapeutic benefits of expressing myself in this fashion. I explored a variety of different mediums and prefer to blend several (encaustic wax, acrylics, oils, glass, crystals, sawdust and even coffee grinds) to create subtle textural and abstract pieces.
The feedback I've received from both my mixed media paintings and my amateur photography has been quite encouraging and has inspired me to take part in the 2014 Trent Hills Gallery and Studio Hop."
Alasdair Gillespie – Photographer
As a Cobourg resident, former teacher and consultant for the Environmental and Outdoor Education; Alasdair always looks forward to sharing his knowledge, skill and passion for photography. As a photographer, he has taken courses and many workshops from such professionals as Cindy Taylor, Freeman Patterson, Andre Gallant, and Richard Martin. When he's not with his camera, you'll find him either cycling, cross country skiing or practicing yoga. But as you will see in the slideshow his sense of color and drama certainly permeates his images:
[masterslider id="8″] See more of Alasdair's photo images on his website.
Alvin Jason VanDrie – Painter/Printer
A.J. VanDrie is a painter inspired by the energy in nature. He works with acrylics in the style of art broadly known as the Woodland School. Raised in the Northumberland Hills by his adopted family, he was encouraged to explore his Chippewa and Irish heritage and found artistic influence from artists across cultures. His unique work celebrates the wonders and the beauty of Canada. A graduate of the Haliburton School of the Arts, he has received his Visual Arts Diploma and participates in private and public exhibitions throughout Ontario and Canada. One can see why in this small sampling of his works:
[masterslider id="9″] Visit Alvins website for a wider selection of paintig and prints.
Summary
As you can see from this preview, Campbellford Clock Tower will have a great showing of Trent Hills artists. So come out on the upcoming weekend.