This Winter has proved to be long, cold but full of marvelous Snow Shows. Late December and January brought the first persistent and sustained snows to Eastern Ontario.The weather was cold enough such that the art reflected the crystalline chill:


All shots were taken at dusk – with frozen fingers.
Fortunately the January snows were heavy and because of the heat of fusion in forming snow, overall temperatures rise. So the heavy snows in January brought some moderation in the bitter cold. Hence the exploration of the  stunning scenics  at  Lang Pioneer Village near Keene Ontario was more relaxed and comfortable: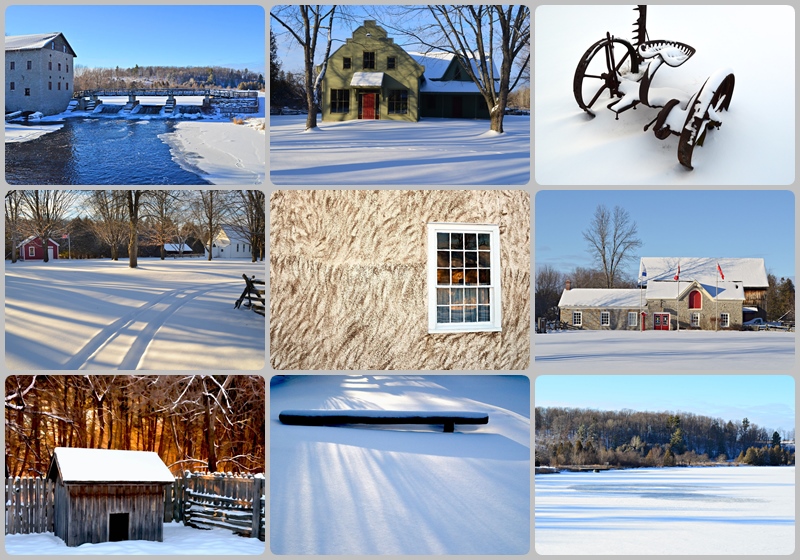 Lang Pioneer Village as mid afternoon lit up  the countryside  with golden colors
The net result is the photo tale of a village relaxing in in its own quiet beauty was easily found as you can see above. Click on any of the images above to be taken to a slideshow with music that captures some of the rapture of Lang Pioneer Village in Winter. However, within the week a January Thaw hit and snow deserted the countryside almost completely by GroundHog Day.
But Weirton Willie was wrong. Snow and cold returned with blizzard vengeance: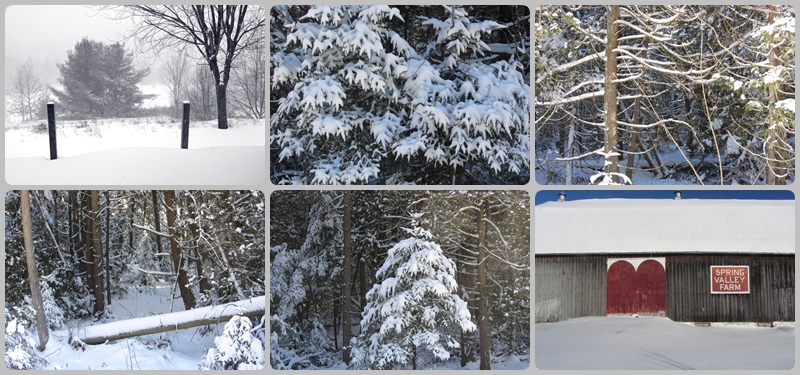 But by the next day the temperature was still frigid but the sun was out highlighting all the new snow  form. Going westward on Hwy 29 featured some great cross country sights to be seen.
Blizzard II
Within just over a week another monster blizzard arrived – it dumped over 10 inches more snow on a countryside already snow covered. But unlike the last blizzard, this one was even windier. And the gusts persisted after the snow stopped – stripping the trees  of much of their snow cover. Nonetheless there were good photos to be had: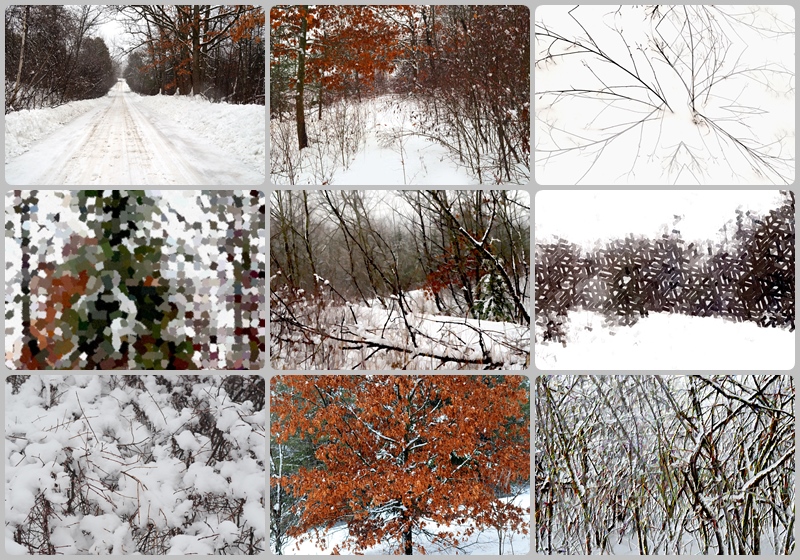 Color can be found Aplenty
Trekking out the next day the snow on the tree limbs had largely been blown away. But at least the flurries had stopped so thephotos with snow streaks would not have to be the norm. But the snow was very deep – so deep that twice backtracking was required to get out of huge drifts. But color could be found – especially the oak and alder which retain colorful leafs along with the pine needles – and 3 added their light fragrance as well as more than pastel hues to the trails. But Winter was not finished.
Blizzard III
Blizzard III came at the end of February and it was the perfectly behaved blizzard. First, soft snow coming down over hours with some wind but not ever too powerful. Much of the snow fell overnight and by the time the dawn came one could see that nearly a foot of snow had landed. But better still, the whole countryside was flour coated with clumps of snow. Even better there was no wind to clearthe snow from the trees, buildings and . Even better still the snowfall was coming to a stop. Literally a powder puff paradise of pictures awaited:

The only problem was that the trees were so burdened with snow that one could hear pistol cracks every 10-15 seconds in the nearby woods as limbs cracked and broke. It also did not help that the Snow Blower did not work and the people at Husqvarna/Poulain Pro and Home Depot worked overtime to guarantee that it was not going to work on their warranty watch. So picture taking time was cut short by long hours of shovelling the snow. By the time the shovelling was done so was the Powder Puffs of Snow too. Thanks Home Depot, last time I will buy a product warranty from your store.
Ice Blizzard IV
Well the rest of the Winter was over – thank heavens because I was without a working snow blower. April 1 had come and gone with no Winter Foolishness. The nights were quite cold and a snow shower would deposit 2-3 inches of snow at the most; but even these stopped after April 1st. And the snows were easily handled by shovel or warmer Spring weather the next day. But then the Yanks had their revenge.
Every year Canada sends 3-4 Alberta Clippers down to the US Northeast just to prove that Global Warming is a big fiction. Count them this year – 3 Big Blizzards. Well Texas and California combined for Yankee revenge in 2013. A storm out of California refueled in Texas pulling in Gulf Coast moisture and headed to Eastern Ontario. Along the way it spawned snow storms in the US Midwest and  tornados in the Southeastern states. Bythe time it arrived in Eastern Ontario it was first snow and then changed to freezing rain.
Again the crux of the blast was overnight Thursday April 11-yes, officially 3 weeks after the start of Spring. By early Friday morning the power was out and would stay so for a full day and a half [service restoration just east of ustook 2 days and to the southwest up in less than half a day]. But the freezing rain stopped by 8:00AM Friday and so like in the case of Blizzard III picture taking was all systems Go:


The Weather was both magical and surreal

Again one could hear pistol shots all morning every 10-15 seconds as branches snapped  and broke just like in Blizzard III. It was surprising that more branches did not crack because the limbs and branches were coated with at least 1/4 inch around of ice in many areas. The storm came out of the west  so the east side of trees , especially cluster of trees had less ice on them.
But I was reading Susanna Clarke's Jonathan Strange & Mr Norrell
, a novel about the return of magic to Britain during the Napoleonic Wars. This is no Harry Potter-like Kids thriller, but rather becomes enmeshed in the psychological aspects of magic. Exploring the nearby roads and woods one could not help but feel that this was a enchanted world and a Fairy road. Then Crash! – as huge tree limb collapsed less than three feet away and I was splattered with ice and tree limbs. If I had not been wearing thick gloves and a heavy coat – the sharp crashing ice pieces and branches would have done bloody damage.
Suffice it to say – my plans to explore the wood like during Blizzard III were amended. That was soft snow and the worst you could do was get lost and your camera coated in snow [both missions accomplished both times].  But after drying off the camera and recharging the batteries I went out just before dusk. The weather was warmer, the sun was breaking through, and but the whole countryside had a new look as patches of wet tan leaves and ground mottled the hills and many low lying trees and bushes. It was as if one had taken another turn on the roads in Fairy. Truly an ice blizzard to remember.
Winter 2013 Summary
2013's Winter looked like it was going to be a repeat of 2012.very cold and snowy in December and January followed by a long late January to early February thaw. But by the second week in February, Winter 2013 was on its own track. And for images it was quite rich. By late March and April, Winter 2013 was back on the 2012 route which lingered cold until almost May. But 2012 did not provide an Ice Blizzard. And so the Winter of 2013 was magical in many ways.