If you "sail" down the Ganaraska River in the Ganny Fanny Float, your first real point of contact with the viewing public is as the Ganaraska flows under the Dale Road bridge just west of Highway 28. As can be seen in the photo below, the Ganny Fanny Float is through some rolling country side that has just lost its white winter coat but is still bleached a light tan. The air this year was crisp, below 10C for most of the day and with a freshening breeze.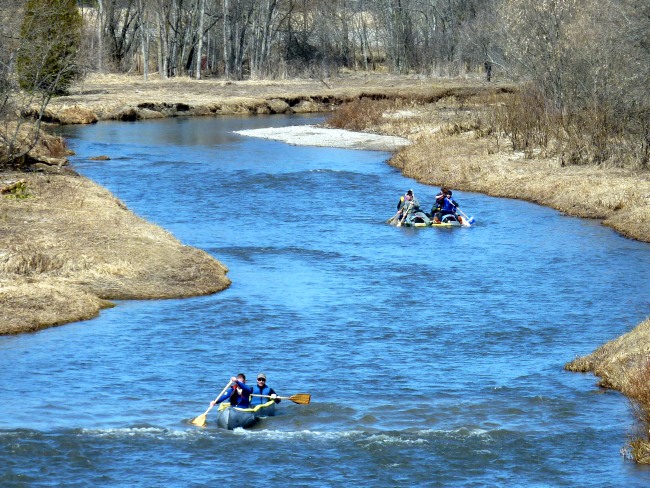 This year there was quite a bee swarm of kayakers whose small craft seem well suited to the Ganny and its constant set of dips, fall-offs, and  rapids. Also this year, the floaters were well armed with fast suction loading water guns which have a very good range. Spectators who have heretofore bombarded Ganny Floaters from the Dale bridge heights using water balloons with impunity – well no such luck for a second year in a row. In fact it was downright dangerous to be "an innocent spectator" [such as ye Editor and Photographer]as more Crazy Craft were packing long range water guns than ever before.

Click on a thumbnail to see the enlarged image 
Speaking of Crazy Craft, this year's entries were a lot more rational than last year's Inverted Satellite  dish, Viking Boat, and Huge Tractor Inner-Tube[is there such a rubber ducky?]. Many were geared for comfort if not keeping dry as lashed together inner-tubes and plastic-bouy woodcraft slinked over falls and rapids with the greatest of tease. Every GannyFanny Floater has to take into account the portage at the dam just beyond the 401 crossover. Designs this year had that 100 yards of dragging and penance  clearly in mind. Ye Editor has  pictures of those proceedings in the Damn Trek posting.

Click on a thumbnail to see the variety of Fanny on the Ganny  Floaters this year.
Here is the view on the other side of the Dale Road bridge as the Ganny Crafters head for the Conservation Area.